Door drops conserve natural resources thanks to a functioning circular economy.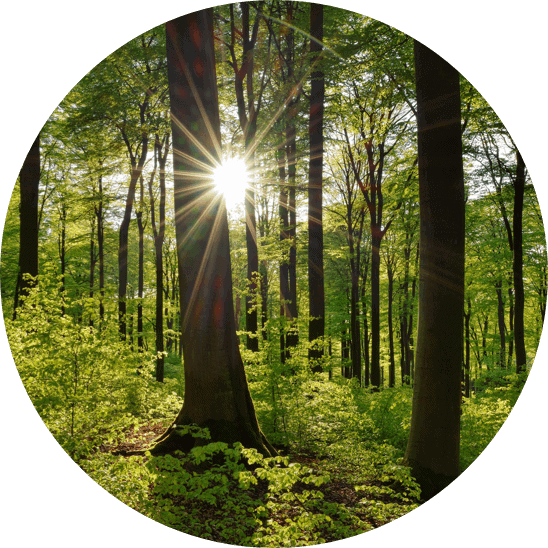 They consist of waste paper and wood waste.
No forests are cleared for door drops. Fresh fibres for paper in Germany come mainly from thinning wood and sawmill waste. In addition, since forests are continually being reforested, the area of forest in Europe is growing daily by 1,500 football fields.
79% is the recycling rate for printing paper in Germany.
They have a low CO2 footprint.
Thanks to the well-functioning recycling system in the German paper industry, the recycling rate today is 79%. The CO2 emissions for the production of advertising mail amount to 0.05% of the total annual CO2 consumption of a German citizen. According to the Federal Environment Agency, this is currently 11.6 tonnes of CO2 per year.
They do not cause mountains of waste.
Door drops are largely made from recycled paper. Since waste paper can be recycled up to 10 times, it is not waste but a raw material in demand. Producers of newspapers, books, household and sanitary paper as well as packaging rely on waste paper.
They come from environmentally friendly production.
The printing and paper industry in Germany operates more sustainably than almost any other sector of the economy. In paper production, water is recycled and 80% of it is reused. The energy input of the advertising mail that a household receives annually is 44 kWh and this corresponds to the energy content of approx. 4 litres of heating oil.
Almost all the door drops that we receive in our letterboxes are made from waste paper.
In 2020, the Federal Environment Agency had the sustainability of recovered paper reviewed in a life cycle assessment.
According to the resulting report, recycled paper has clear ecological advantages over virgin fibre paper:*
Wood consumption is reduced and is available for longer-lasting uses.
Recycled paper does not need to be bleached as intensively as virgin fibre paper.
Only half the energy is needed to produce recycled paper and between one-seventh and one-third of the amount of water used in virgin fibre paper.
The CO2 emissions of recycled papers on the German market are on average 15% lower than those of virgin fibre papers.
Forests are conserved through the use of recycled paper, thus reducing loss of biodiversity through intensive forestry and plantation management and its social and ecological consequences worldwide.
Source: https://www.umweltbundesamt.de/daten/ressourcen-abfall/verwertung-entsorgung-ausgewaehlter-abfallarten/altpapier#grafische-papiere